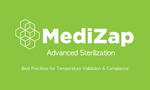 We had a fantastic time attending the virtual Compounding Compliance Conference! This is the industry-leading conference for compounding professionals and those involved in the compounding industry. The conference provides a wealth of knowledge for professionals. It helps teams be ready for inspections and to be aware of all of the latest guidelines and standards in the industry. This gold-standard event is also a great opportunity to learn what colleagues are doing and learn from some of the brightest minds in the industry. 
From thought leader keynote speakers to great breakout sessions and so much more, this conference truly provides a wealth of industry knowledge. 
Specifically, we enjoyed learning more about compliance and temperature validation - a key to sterilization and maintaining the purity and structure of a pharmaceutical.
Best Practices for Temperature Validation & Compliance
Temperature controlled environments require strict validation from start to finish to ensure that all products remain safe and secure. All elements in compounding pharmaceuticals require temperature validations, from warehousing and transport, to sterilization chambers and finished products. 
We learned a great deal at the conference about temperature mapping and qualification. This entails strict data compliance and monitoring, as well as testing for validation. Some key importance tests in the industry include power loss/recovery, access simulation, and load configurations. Mapping should be done over time and through various means of testing to ensure data validation is always as comprehensive as possible. 
Extensive documentation is also required for compliance in validation testing. All documentation should be approved before execution and specifically outline the methodology of testing, the acceptance criteria to proceed with further validation efforts, and should provide key summary reports after testing is completed. There are a variety of different sensors that can be utilized in validation - a remarkable advancement in the last several years.
Our Key Takeaways from the Conference
From learning about temperature validation and qualification at the conference, our team was able to bring home some key takeaways and about how these are implemented in MediZap's methods and compliance. First, temperature stability should always be a key when working with a sterilization and packaging partner. We ensure that your products are always protected from start to finish, as part of our Four Pillars of Service.
Next, it is critical to ensure that your compounding pharmaceutical partners are well-versed in compliance and logistics to ensure temperature stabilization throughout the packaging and distribution process. Through the conference, we discovered our compliance goes above reasonable standards, and we believe this is one of the many key advantages of working with us.
Finally, this conference helped us further solidify partnerships with experts in our industry, helping us better understand and learn how to implement evolving technology and industry standards. We always understand and embrace the complexities of the industry even more so after attending this fantastic annual event.
When it comes to sterilization and packaging needs, don't just settle for any type of services - trust MediZap's advanced e-beam technology and our innovative packaging for all your compounding needs. Feel free to contact us to learn how we can help you better serve your patients!