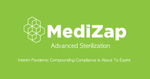 Pandemic-driven interim guidance on compounding is a kinder, gentler version of the 2008 United States Pharmacopeia (USP) Chapter 797 that regulates safety. With the state of the pandemic, it's just a matter of time before the less restrictive interim rules revert back to their more robust former selves. By preparing for the return to the pre-pandemic USP 797 now, compounding pharmacies and facilities will make the eventual transition much smoother.  
Compliance As It Stands Now
Though most pharmacies and compounding facilities have tried to adhere to USP 797 guidelines throughout the pandemic, COVID-19 brought on necessary changes to compliance standards due to added responsibilities, a decreased workforce and supply issues. Federal regulators loosened guidelines, including allowing workflow adjustments and the reuse of personal protection equipment (PPE) to extend the life of resources in short supply.
As supplies, supply chains and the workforce return to normal, and the public health crisis wanes, pharmacies and compounding facilities will need to return to the previous compliance standards set by USP 797. Given that a recent survey determined that approximately half of compounding pharmacies are not currently in full compliance, and planned upgrades to facilities have been put on the back burner, there is much work to do to get ready to return to pre-pandemic operations.
Checklist To Regain Pharmacy Compliance
As interim compliance standards are nearing expiration, pharmacies and compounding facilities need to prepare for the return of USP 797 in its original state, and the regulatory reviews and audits that come with it. What follows is a checklist to start getting ready now.
Address pharmacy workflows:
Investigate ways to utilize automation when possible.
Invest in low cost, user-friendly workflow systems. Currently, only about one-third of hospitals have IV workflow systems on board.
Plan for the need to prep medicines more frequently due to shortened beyond-use dates.
Look for ways to increase efficiencies with staff and stock up on supplies like PPE.
Get reacquainted with USP 797 and 800:
Get back to basics. Set up training sessions and create training materials for staff to review pre-pandemic compliance standards. Identify practices like the reuse of PPE that will no longer be allowed once interim standards have been lifted.
Pharmacy management should determine if their pharmacy is compliant with USP 797, and pinpoint areas that need improvement to achieve compliance.

Invest in compliance-focused software that's in tune with the original compliance standards.
Focus on best practices:
After standards have been reinstated, implement best practices like renewing deferred certifications, bolstering sampling protocols, and improving the standards/frequency for competency assessments.
Create a concrete plan for regular environmental monitoring.
Work with an external auditing company to evaluate best practices. Compliance experts can help pharmacies operate at their absolute best.
Onward And Upward
During the pandemic, pharmacies and pharmacy departments played a big role in making treatment decisions, managing and prioritizing vital medications, and helping roll out the vaccines. Now, as pharmacies begin to step back into their pre-pandemic roles, is the perfect time to take a closer look at what can be improved upon as an industry, strategize, and push for needed changes. Regardless of tight budgets and potential growing pains, patient safety—and the commitment to compliance—must always be the priority.
Element Materials Technology, exclusive partner of MediZap, offers best-in-class environmental monitoring solutions to support pharmacy compliance.