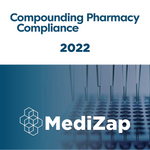 Compounding Pharmacy Compliance 2022 Attendance (6/21/22 - 6/22/22)
MediZap in support of Element partnership joined the Element team, in Alexandria, Virginia.
The goal of the event was to conquer regulatory complexities and mitigate risk by developing first-class compliance and quality standards. Ensure inspection readiness at the preeminent event for compounding professionals with timely regulatory updates, innovative technology solutions, industry best practices and protocols to drive quality assurance facility-wide.