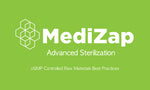 Recently, the FDA has been providing much heavier guidance - and more Form 483s for objectionable conditions - with respect to the regulatory requirements of cGMP controlled raw materials. As a result, they are also providing more information on overall best practices for these materials. It is critical for those working in the pharmaceutical industry to understand the ever-changing requirements and best practices pertaining to cGMP.
Regulations Guiding cGMP Controlled Raw Material are in FDA regulations 21 CFR 211.84 Subpart E: Testing and Approval or Rejection of Components, Drug Product Containers, and Closures
Overview of the Regulation
Section D of the FDA regulation identifies specifically what is needed to get drug products approved and to the consumer. It also helps explain the basis for why a product would be rejected.
The key points of this specific document include:
Managing the release of components, containers, and closures for each lot of drug product.

The basis for selecting representative samples for testing or examination.

Aseptic sampling, checking of sterile equipment, container identification, sub divisions, and other issues related to collection of samples, including cleaning, preventing contamination, and using sterile equipment.

Examination and testing of the samples
More information can be found in these resources:
Control of components, containers, and closing mechanisms of drug products can also be found in 21 CFR 211.80.

Under 21 CFR 211.110, in-process materials shall be examined and tested for identity, strength, quality, and purity, and either approved or rejected by quality control.

GMP Guidance B of VII 7.2. describes the procedure to follow on receipt of containers of materials and before accepting them for use.
cGMP Best Practices
In addition, the regulation outlines best practices as follows:
Understand the 21 CFR 211.84 requirements for incoming cGMP controlled raw materials.

Ensure compliance with 21 CFR 211.82 in the storage and receipt of cGMP controlled raw materials.

Prepare cGMP controlled raw materials according to specifications and forward to Quality Control (QC) department for processing and testing.

For raw material test specifications and part numbers, complete the cGMP raw material request form.

To be included: The Raw Material Certificate of Analysis (CoA) and other documentation applicable to the raw material (MSDS, etc.).

Follow the Procedure for Raw Material Initial Receipt

After initial receipt and verification, raw materials are quarantined.

Control the temperature and humidity (store in a controlled environment).

Follow the requirements for quarantine, segregation, and labeling.

Perform testing and specification of raw materials.

cGMP Raw material testing requirements

The cGMP controlled raw material will be given a new part number.

New incoming raw materials should be subjected to an "Initial Qualification" test.

Establish an acceptable testing program and frequency.

A subsequent re-qualification test is required for Routine 'Qualified' raw materials that confirms the previous qualification testing.

Conduct routine and annual confirmation testing of qualified raw materials within the cGMP guidelines.
Summary Of Steps Involved In Receiving And Releasing cGMP Raw Materials For Use
Raw materials are received

Materials stored in controlled conditions

Requirements are followed for quarantining, segregation and labeling

The process for testing and qualification is followed:

Approval, disposition and release

Dispersing and tracking

Discarding and reconciliation
MediZap's Compliance Standards
Maintaining standards and best practices surrounding cGMP guidelines are critical for those in the pharmaceutical industry. Learn how MediZap keeps you ahead of the curve.