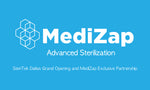 We partner exclusively with SteriTek to create the first and only e-beam terminal sterilization solution with unique value-driving benefits of dedicated line capacity, 48-hour / 24-hour turnaround, complete validation services, and cold chain processing. SteriTek is the San Francisco Bay Area and Silicon Valley's leader in E-beam sterilization and X-ray irradiation for complex products and sensitive materials. With a name that has a proven track record, SteriTek is also ISO 11137 and ISO 13485 certified, FDA registered, DEA registered.
SteriTek Is Growing
Because of SteriTek's expansive track record in the industry and its leadership in the field, SteriTek is growing and expanding rapidly and is now looking to open a new 103,000-square-foot facility in Lewisville, Texas. We are excited to be partners with this great organization and to watch them continue to grow and thrive. We are also looking forward to future offerings that SteriTek may be able to provide our clients as a result of their expansion.
SteriTek has customers throughout the U.S. who are shipping products to their facilities, and one reason they chose the Dallas area was the volume of client shipments that come through the area. In addition, due to their extensive growth, SteriTek is nearly at capacity with their current facility, and this new one will give the company room to grow and further develop.
​​The brand new facility will act as a second office for the company and will not replace its current facility in California. However, the Lewisville facility could eventually become SteriTek's headquarters as they continue growing and expanding their client portfolio throughout North America.
MediZap Is Proud To Exclusively Partner with SteriTek
With SteriTek's planned 2022 expansion to North Texas, SteriTek and MediZap are proud to be exclusive partners for the compounding, outsourcing facilities, and small pharma industries with SteriTek as they continue to expand their business in various regions, offering Terminal Sterilization to our customers in need.
MediZap is proud to partner with incredible organizations in order to provide clients with the best possible turn-key services with our cutting-edge e-beam terminal sterilization for compounded pharmaceuticals. We've completed supplier due diligence on your behalf to ensure that our clients are consistently receiving the highest quality products and services.