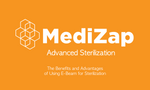 Whether you're looking for quicker processing times or a technique that is safer for our environment, e-beam is the elite choice for terminal sterilization. Electron-beam (e-beam) sterilization is a process utilized to decontaminate pharmaceutical and medical-grade products. This technique functions by directing a continuous and concentrated, highly charged stream of electrons, generated by accelerators capable of producing pulsed beams, through the product. As the product | material being sterilized passes beneath or in front of the e-beam, energy from the electrons is absorbed, altering various chemical and biological bonds and destroying the DNA and reproductive capabilities of microorganisms. Ready-to-use vials and syringes are most commonly used with this approach, giving e-beam an advantage for compounded pharmaceuticals. Using this sterilization method makes for a fast and thorough turn-around over other alternative systems.
The various advantages that e-beam sterilization provides include convenience, efficiency, and 10⁻⁶ sterility assurance. Not only does e-beam benefit over other methods, but this form of sterilization also offers the lowest minimum run quantities and the fastest turn-around times in the industry. Products can also be sterilized in their final packaging without damage being done to the contents. While e-beam could cause short-term staining in polymer products during the process, once the free radicals have undergone sterilization, there is no risk to the integrity of the product. In comparison to other forms of sterilization, such as vapor sterilization, e-beam functions at a lower temperature and works for spanning to hard-to-reach areas (example: capped cartridges). With regards to gamma irradiation, e-beam poses a lower threat of degradation and loss of potency because of shorter direct exposure times. Choosing to e-beam your products are reliable and effective, resulting in delivering a quality product that will outrun the free-radicals and keep the continuity beyond that of the polymer.
To find out more about Medizap's e-beam sterilization services, or how e-beam sterilization could be successful for your products, please visit here.