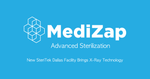 SteriTek New Site Update
SteriTek's new 103,000-square-foot facility in Lewisville, Texas, has been unfolding and pushing towards an October 2022 opening date. MediZap is excited to be exclusive partners with this great organization and will support bringing existing and new customers in the compounding industry to this next-generation facility.
What is X-Ray Technology?
X-Ray uses electromagnetic energy (photons) and provides deeper penetration on more dense drug products/configurations at 15 g/cm2 beyond E-Beam's 7.5 g/cm2 penetration. The wavelengths are similar to gamma irradiation. Electrons are converted to X-Ray using a tantalum window, while drug product is processed in a bunker to contain the radiation. Identical to electron beam technology, you benefit from: scalable lots, a conveyor system, the product hit from two sides with 99.9% guaranteed uptime, and minimal exposure to ozone. X-Ray irradiation is equally efficacious, secure, and environmentally friendly while incrementally effective over E-Beam at treating a wide variety of products with varying densities due to shorter exposure time and improved Dose Uniformity Ratio (DUR).
What Standard(s) are used?
ISO 11137:2016 is the global regulatory standard used for sterilization validation of drug products using the X-Ray terminal sterilization modality. This regulatory guideline ensures a minimum sterility assurance level (SAL) of 10-6. MediZap recommends and follows an ANSI/AAMI/ISO 11137-2 VDmax sterilization validation approach for most of its clients. These ISO standards are recognized by both the FDA and USP.
What drug products are a good fit for X-Ray vs. E-Beam?
X-Ray irradiation can effectively sterilize a wider variety of drug products with greater densities, configurations, and orientations. For compounders, outsourcing facilities, hospital networks, and small pharma, the additional types of drug products sterilized include:
 • Bulk Raw Materials (API's/Excipients)
• IV Bags (Standard/Mini)
• Large Volume Vials for Human and Veterinary Use (50ml+)
MediZap is excited to bring this technology, crafted for compounders, allowing more drug product formulations and primary package configurations to be sterilized, in the highest assurance level available.  We will be shortly announcing new packaging solutions that are pre-validated that support these new formats.