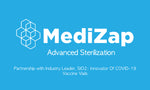 From manufacturing a better vial to carry COVID-19 vaccines in, to devising a biodegradable packaging, SIO2 is creating a better world by rethinking the ways products are created. SIO2 provides pre-validated, electronic-beam (E-beam) capable solutions that allows compounding pharmacies to reduce research and development time and deliver the safest product on the market. 
With the global pandemic and the corresponding release of vaccines worldwide, the shortage of glass vials has threatened to be a major problem. SIO2 Materials Science uses plasma technology, creating a tiny, minuscule layer of medical-grade glass inside plastic vials. An incredible, and needed, innovation as vaccine roll-out has progressed across the globe.
The use of this medical-grade glass inside plastic vials helps overcome the shortage of glass vials and has many advantages: plastic is durable and light, and has a short manufacturing time, while the glass layer keeps the plastic vial airtight – an amazing resistance to contaminants. 
With its easy method of production, the company has managed to hike up manufacturing from 10 million vials in a YEAR to a million vials in just ONE MONTH! This has prevented a major crisis of pharmaceutical companies scrambling for glass vials where available, which can result in settling for substandard containers. The ramp-up of manufacturing has provided a significant benefit for the distribution of vaccines. 
MediZap features SIO2 as part of its Ready-to-Use Solution. SIO2 is also one of MediZap's exclusive vendors.