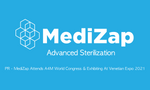 MediZap Attends A4M World Congress & Exhibiting At Venetian Expo 2021
Learn about the American Academy of Anti-Aging Medicine World Congress and about MediZap's attendance.
Kirsten Olson and Jonathan Bergstrom, on behalf of MediZap, are proud to announce MediZap's participation and attendance at this year's American Academy of Anti-Aging Medicine (A4M) World Congress in Las Vegas, NV and booth at the Venetian Expo.
Healthcare has become even more complex and dynamic in the last two years than ever before, but the opportunities that have arisen are boundless. As the field enters a new chapter and becomes even more resilient, A4M has been there to help clinicians understand this changing environment. The theme of the 29th Annual World Congress is "The Next Chapter: Unmasking the Hidden Epidemic,"  and the speakers and exhibitors at this conference will be there to unveil challenges, and solutions, in healthcare. 
"MediZap will be highlighting our key services, new partnerships we've made in the past few years, and diving into the MediZap difference during our exhibition time. We are looking forward to networking with those in attendance and sharing how our partnerships benefit those in the pharmaceutical industry and beyond," said Jon M. Bergstrom, MediZap's Executive Vice President of Business Development.
This year's World Congress is the ideal time to address issues within the medical system that have left patients and healthcare communities vulnerable. Specifically targeting those in the anti-aging industry, this event will deliver insights to help clinicians and beyond feel confident about the new future of healthcare and the resources available.
Here are the key themes, or takeaways, from this year's A4M:
Growth in compounding peptides in many different treatment areas including weight management, growth hormone, mental fatigue, and bone density support.
Exosomes to facilitate the exchange of RNA and proteins like keratin, fibroblasts, cytokines, and growth factors between cells. Applying exosomes topically to the epidermis has the potential to result in cosmetic beautification, suppleness, texture, tone, quality, and clarity to the skin.
PRP for hair restoration.
Telomere Biology provides the cosmetic benefits of cellular moisturization, color balance and a softening of fine lines and wrinkles. Helps to fight free radicals and support physiologically balanced oxidation in the skin. Free radicals, commonly referred as Reactive Oxygen Species (ROS), damage cellular components, including vital proteins and lipids, resulting in the appearance of age spots and wrinkles. Helps to significantly reduce visible signs of aging. Overexposure to UV (ultraviolet) light causes pre-clinical, not yet visible, or noticeable damage to the skin. Pre-clinical damage greatly attributes to eventual age-associated cosmetic skin problems.
New USP 797 proposed regulations and compliance required for 503a compounding pharmacies.
To learn more about MediZap, visit: https://medizap.co/.
To learn more about the A4M World Expo, visit: https://www.a4m.com/29th-annual-world-congress.html 
About MediZap:
MediZap is North America's premier turn-key service provider of cutting-edge e-beam terminal sterilization for compounded pharmaceuticals. They provide an all-inclusive program with E-Beam Sterilization, Packaging Solutions, Compliance, and Exclusive Partnerships, allowing them to offer a world-class client experience. Utilizing a network of compounding pharmacies, outsourcing facilities, and pharmaceutical companies across North America, MediZap clients can leverage exclusive line capacity, group pricing, and shared industry knowledge and trends.
About A4M
Founded in 1992 by Dr. Ronald Klatz and Dr. Robert Goldman, A4M is rooted in a forward-focused mission to redefine modern medicine, The American Academy of Anti-Aging Medicine (A4M) is the established global leader for continuing medical education in longevity medicine, metabolic resilience, and whole-person care. In consistently pushing beyond the traditional standards of healthcare and disseminating the latest and most innovative clinical strategies in modern medicine, A4M has spent nearly three decades equipping thousands of clinicians from across the globe to combat the growing burden of age-related disease and improve the human health-span—and we are just getting started.