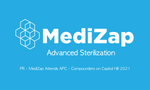 MediZap Attends Compounders on Capitol Hill Event, November 2021
The Alliance for Pharmacy Compounding held their 2021 DC fly-in event, Compounders on Capitol Hill, and MediZap proudly attended.
Jon M. Bergstrom, MediZap's Executive Vice President of Business Development, attended the 2021 Compounders on Capitol Hill event on Nov 2nd and 3rd with approximately 125 Alliance for Pharmacy Compounding (APC) members. From the exhibition to the briefing sessions, it was a successful event that truly helped to define the compounding industry.
Compounders on Capitol Hill is the APC's annual DC fly-in event. Each year, this event gives compounders the opportunity to meet and lobby with lawmakers and decision-makers in the pharmaceutical industry. During the event, attendees enjoyed exhibits from vendors who work within the compounding industry, networked with other individuals in the industry, and attended a variety of scheduled visits with members of congress.
MediZap's Exclusive Partner Steri-Tek sponsored the APC's Board of Directors dinner for an evening of camaraderie, discussions on the state of compounding pharmacy, and much more.
"Not only did Scott Brunner, the Chief Executive Officer of APC, and his whole team do an amazing job in organizing the meeting, but the follow-up discussions with our House and Senate members up on the Hill were fruitful and a rewarding part of the trip," said Jon M. Bergstrom, MediZap's Executive Vice President of Business Development.
While on Capitol Hill, MediZap took the opportunity to release its White Paper on the proposed USP 797 revisions. The revised chapter of this regulation changed requirements for sterility testing based on small batch size, beyond use dates (BUD), and also recommended new protocols for bacterial endotoxin testing. This paper was well received by members and leadership, and the team is looking forward to further conversations surrounding these critical regulations.
"The Compounders on Capitol Hill event is one that those in compounding pharmaceutical should not miss, and MediZap highly encourages others to attend the event next year. Michael Blaire, the current APC President reminds us: 'If you do not take an interest in the affairs of your government, then you are doomed to live under the rule of idiots' -Plato," concluded Bergstrom. 
To learn more about MediZap, visit: https://medizap.co/
About MediZap:
MediZap is North America's premier turn-key service provider of cutting-edge e-beam terminal sterilization for compounded pharmaceuticals. They provide an all-inclusive program with E-Beam Sterilization, Packaging Solutions, Compliance, and Exclusive Partnerships, allowing them to offer a world-class client experience. Utilizing a network of compounding pharmacies, outsourcing facilities, and pharmaceutical companies across North America, MediZap clients can leverage exclusive line capacity, group pricing, and shared industry knowledge and trends.