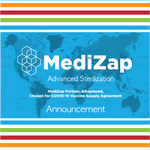 At MediZap, we are proud to work with a variety of incredible partners and companies. True innovators in the field, our partners are the best-of-the-best. Our news today further solidifies that.
A Pioneer in the Field - ARaymond
In the campaign against COVID-19, the Canadian Government has put together a national response plan. This plan includes the capability for Canada to be completely independent in vaccine distribution and supply chain.
In this daunting endeavor, the Canadian Government appointed one of our partners, ARaymond to help in the fight against COVID-19. As of December 2020, ARaymondlife and Canada have entered into a supply agreement to utilize ARaymond's innovative RayDyLyo caps for Canadian COVID vaccine distribution.
Innovation in Vaccine Distribution 
RayDyLyo is ARaymond's proprietary plastic snap-fit caps. They will be utilized to close the vials that will contain the COVID-19 vaccine and ensure that it is prepared for distribution. This specific contract between Canada and ARaymond means that every single vaccine distributed to the Canadian public will have the company's proprietary caps - an absolutely incredible feat for a fantastic company.
The RayDyLyo caps that will be utilized for this endeavor are an all-plastic push-fit capping solution. These caps will both simplify, and secure, the capping operation of the vaccine vials, and ensure that they are as safe and compliant as possible to get the vaccine to the Canadian public. 
Additionally, Health Canada and the Canadian Government anticipate the future purchase and storage of components essential to developing more COVID-19 vaccines and plan to be autonomous in this process. They will be utilizing ARaymond for this storage as well. 
The Best Capping Solution On the Market
Health Canada chose the RayDyLyo capping solution for the following reasons:
Innovative cap compatible with ISO stoppers and ISO vials, and fully ISO compliant
Closure validation on vials (CCI),
RTU Component - Ready-to-Use,
Validation for use at -80°C,
Caps availability in nest for safe capping in gloveless filling machines.
Another key point that sets RayDyLyo capping solutions from the rest? ARaymond assembles the stoppers pre-validated by the customer automatically. This unique assembly upstream simplifies the capping of the vials in a single step and eliminates secondary crimping that is needed with aluminum caps. This also ensures enhanced safety and security of the vial.
"The RayDyLyo® cap helps to significantly reduce drug development time, to guarantee optimal storage of injectable drugs, to fight against the risk of counterfeit products and therefore to ensure patient safety," explains Pascal Sircoulomb. "It represents a breakthrough for the biotechnology industry and has already been adopted by several of the world's largest pharmaceutical companies," said Pascal Sircoulomb, Business Development Director of ARaymondlife.
ARaymond is a French pharmaceutical company recognized for its expertise in plastic processing. Their innovative molding strategies allows the company to design and produce parts suitable for both human and veterinary health industries.