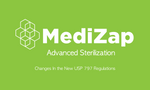 In 2019, revisions were published to the USP General Chapter 797 Pharmaceutical Compounding – Sterile Preparations, by the Compounding Expert Committee of the US Pharmacopeia Convention, on compounding nonsterile and sterile preparations, along with advanced standards for compounding radiopharmaceutical drugs. This is one of the first changes to the original regulation set of sterile compounding practice standards given by the United States Pharmacopeia (USP). The updates advocate for change in both structure and content, forcing processes to broaden and to increasingly become more effective. Below outlines the significant details that will most influence sterilization and depyrogenation.
Compounded Sterile Preparation (CSP)
The Compounding Expert Committee of the US Pharmacopeia Convention suggests expanding regulations to the current CSP method and replacing the system with these two preparation condition categories:
Category 1

Sterile preparation is conducted in a separate compounding space, which would be equipped with ISO 5 primary engineering control, outside of an ISO 7 cleanroom.

Category 2

Similar to category 1, sterile preparations would be conducted with ISO 5 primary engineering control, but inside of a cleanroom setting.
Beyond-Use Data System (BUD)
Changes to the BUD requirements are intricate and are based on achieving the most effective form of sterilization. The previous categorization of CSPs, microbial contamination risk levels, are revised to Category 1 and Category 2. Each category is based on the environment under which they are made, the hypothesis of microbial growth, and the time period in which they are used. Some of the revised BUD factors include:
Category 1

12 hours at controlled room temperatures
24 hours in a refrigerated environment

Category 2

Terminally sterilized, no sterility

14 days at control room temperature
28 days in a refrigerator
45 days in a freezer

Terminally sterilized, sterility test passed

45 day at control room temperature
60 days in a refrigerator
90 days in a freezer
CSPs that are terminally sterilized through dry heat, steam, or irradiation must use a system that achieves the sterility assurance level.
Investigations and Corrective Actions
Currently, investigations into USP 797 are only mandatory when there is a sterility test failure or when recovery of colony-forming units in environment monitoring is surpassed. New investigations and corrective actions include:
Building certification failure
Quality control failure
CSP inadequacies
Other adverse events
Calibration, Qualification, and Certification
Revisions to the USP 797 are greatly focusing on the need for systematic calibrations, qualifications, and certifications for materials and classified spaces. Continuous, higher-level, routines are proposed for both equipment and classified clean rooms. New regulations will require dynamic testing for each inch of space and will need to be maintained by personnel.
Conclusion
The updates and summary of changes to USP 797 reflect advancements in science and engagements from industry experts. The new regulation standards are also detailed and require a thorough read through. Keep up to date with USP regulations to see how these new regulations will affect your practice.
*Important Update: Revised General Chapter USP 797 is postponed until further notice.