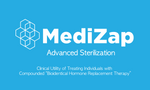 What are the benefits of treating people with compounded "Bioidentical Hormone Replacement Therapy (BHRT)"?
A diverse committee from the National Academies of Sciences, Engineering and Medicine, in partnership with the FDA, will carry out a report to measure the clinical power of treating individuals with compounded "bioidentical hormone replacement therapy (BHRT)" medications.
The committee will:
Review the existing patient history of compounded BHRT medications, and other compounded products, and to document the care of patients, including the conditions compounded medications have showcased in their history.
Describe the physical and chemical substance characteristics of compounded BHRT medications (example: active components, inactive components).
Review and measure the available proof, or insufficient evidence, concerning the safety and performance of compounded BHRT medications.
Review findings and make recommendations based on the obtainable evidence regarding the medical utility of compounded BHRT medications.
And finally, find the available evidence for:

Clinical utility of BHRT medications;
Whether safety and efficiency helps BHRT practice on patients; and
Supporting the replacement of BHRT medications with FDA-approved products.
The FDA plans to distribute all updates about this study with the public as information becomes available.