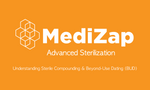 Understanding Sterile Compounding & Beyond-Use Dating (BUD)
Beyond-use dating is a key way to reduce waste within compounding pharmacies as long as it is applied carefully and strategically. Due to the vast number of factors that are taken into account during the testing process, determining the beyond-use date (BUD) for compounded preparations is complicated. Despite the complexity, using established SOPs and smart documentation assists in the streamlining and in developing successful BUD processes.
Factors Impacting BUDs
A variety of means impact BUDs for compounded preparations. These can include, but are not limited to:
Stability and compatibility of all components of the drug, including closed containers and devices
The type of compounding environment
Sterility and quality of ingredients used
Complexity and manipulations of the preparation
Storage conditions
Formulation of a product according to a USP monograph
Aiding BUD Decisions
A plethora of evidence-based resources can be used to determine BUDs. Many of these are dedicated specifically to compounded products. These include package inserts from the manufacturers, compedial references, as well as peer-reviewed studies and articles utilizing proper testing methods. However, it is important to recognize that stability alone does not impact the decision of the timing of a BUD. Sterility must always come into play as well.
How to Test Sterility, Potency & Endotoxins
To determine the overall stability and sterility of a compound, multiple types of testing are performed:
Sterility Testing: This is performed by GMP microbiology testing. Sterility testing ensures no microorganisms are present within the compound. This type of testing must be as accurate as possible to ensure every component is sterile and ready for patient use.
Endotoxin Testing: This type of testing determines the quantity of endotoxin contained within a product.
Potency Testing - The final type of testing determines the potency of the product. It can be as complex as concentration-to-potency and can use various analytical methods such as liquid chromatography-tandem mass spectrometry.
The testing of compounded pharmaceutical products is required during the sterilization validation process and routine release testing. Sterility testing is also included in USP requirements as a method for determining a lot's suitability. Therefore, an understanding of sterility testing is beneficial in terms of designing a validation process.
The most critical aspect of pharmaceutical compounding is sterile compounding. These types of testing are performed to ensure that sterile preparations meet the needs of patients in all phases of preparation, storage, transportation, and administration in compliance with established standards, regulations, and professional best practices.
USP's updated regulation 797 assignment of BUD's through MediZap always adheres to a conservative path to minimize risk to patient safety.